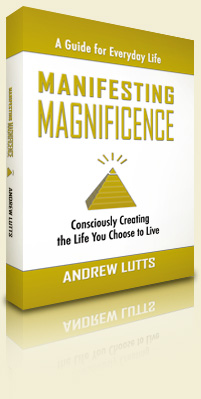 Praise and Testimonials
The book so far is easy to read and has such a positive feeling as if you have this gift to offer to humanity and cannot get it out fast enough for the good of all. I feel like I can't read it fast enough. And although it feels like the topic at hand could be overwhelming for some to digest it is written in a way that is humbly positive. I also really like the fact that there is a Q & A section at the end of each chapter. I can think of at least 5 people I want to give the book to. - N. G.
-------
Andy your book is phenomenal. I'm feeling quite positive these days. The law of attraction is the secret...amazing. I'm even getting parking spots, I swear!!!! It's wild. I'm visualizing what I want (on many different levels), and writing my affirmations down weekly. I'd go into all of the details of which I can relate (like spiritual phenomenon), but it would take too long.

Anyway, thank you for being willing to share, and teach [this information]. You are giving so much to society. - J. M.

-------
You're continually changing my life! I am so into your book!

With much skepticism and little understanding of the subject matter, I began reading Andy's manuscript as a favor. Little did I know what a profound effect it would have on my life. I'd grown up during the hay day of Norman Vincent Peale and the Power of Positive Thinking but that had not influenced my life. After reading the first few chapters of Manifesting Magnificence I realized I was being shown something very important.

Since reading Andy's book I've gone on to read many others in the same genre but I'm so glad I read his manuscript first. It was easy to understand and clearly defined the concept for me.
Andy, your writings changed my life is so many ways; I've grown and become a much more positive person because of you! I thank you each and every day! I would like to buy 4 more copies and I'd love it if you would sign them, especially the one to my daughter. - J. A.

PS. I do wish that you'd have a workbook. I hate writing in my book! I know what I should do is get a notebook and perhaps I shall!
-------
I'm blown away! I am just so amazed at your level of understanding about enlightenment and manifestation. - J. C.

-------

I really like the book format, it makes it so easy to read with your lists and chapter summaries. It reads very quickly. I also like all the personal stories and examples too, very interesting. - H. L.